History & Mission
Our Story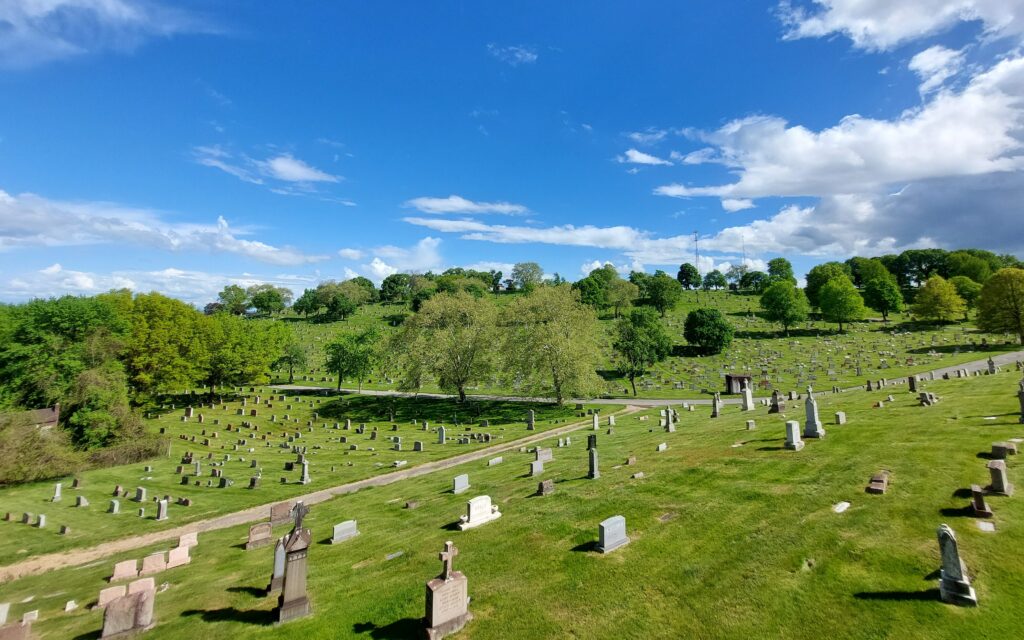 We can trace the beginnings of what is now The Catholic Cemeteries Association to the earliest decades in the history of the Diocese of Pittsburgh. Among the cemeteries established during that time were those that eventually became the founding members of The Catholic Cemeteries Association: St. Mary Cemetery, Lawrenceville; St. Joseph and St. Thomas Cemeteries, Braddock; Calvary Cemetery, Hazelwood; and St. Philomena Cemetery, Ross Township.
In the decades to follow, other cemeteries were established that would eventually become members of The Catholic Cemeteries Association. But these four–St. Mary Cemetery, Braddock Catholic Cemetery, Calvary Cemetery and North Side Catholic Cemetery–would become the charter members of The Catholic Cemeteries Association when it was incorporated on December 23, 1952. To all those who established, operated and maintained these cemeteries in the Catholic tradition, we owe a profound debt of gratitude.
The Catholic Cemeteries Association currently owns, operates and maintains 16 diocesan cemeteries in Allegheny and Washington counties in western Pennsylvania. Below you will find information regarding the history of some of our initial cemeteries. For an expanded listing of cemeteries and descriptions, please refer to the cemeteries section of this site.
What's the difference between a parish cemetery and a CCA cemetery?
A parish cemetery is owned and operated by the parish church. The operation of the parish cemetery is under the complete guidance of the Pastor of that parish.
A CCA cemetery, or a "diocesan" cemetery, is owned and operated by the Catholic Cemeteries Association. The Association is governed by a Bond of Trustees appointed by the Diocesan Bishop. The Bishop serves as Chairman of the Board.
The diocesan cemeteries were established to serve the burial needs of Catholics who belong to a parish that does not have a cemetery, or whose cemetery is full.
Our Mission
The Catholic Cemeteries Association (CCA) is a nonprofit corporation affiliated with the Catholic Diocese of Pittsburgh. The mission of the CCA is to:
Administer the Corporal Work of Mercy of burying the dead, and to care for their resting places.
Preserve, promote and protect the Church's teachings on death and resurrection.
Console the bereaved.
Encourage prayers for the deceased, especially in our Catholic cemeteries.
Established in 1952 by Bishop John Dearden, the Association owns and operates the 16 diocesan cemetery properties located throughout Allegheny and Washington Counties.
Thousands of people have turned to The Catholic Cemeteries Association over the past 50 years as a trusted advisor in planning for their final arrangements in the Catholic tradition.