Catholic Veterans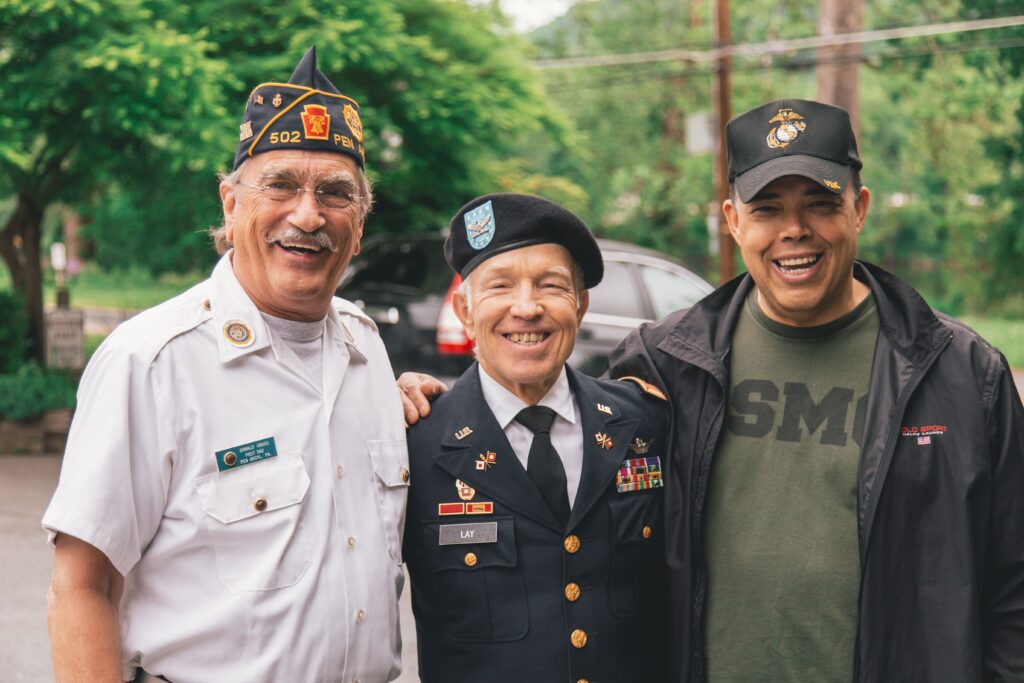 Faith. Family. Country.
Final Resting Places for Veterans
In recognition of the sacrifices made for us by our veterans, The Catholic Cemeteries Association provides resting places in each of the diocesan cemeteries honoring those who have faithfully served our country.
The Association has also established two new sections to honor our veterans, one in Queen of Heaven Cemetery in McMurray and the other in Good Shepherd Cemetery in Monroeville. These sections are unique in that they not only provide space for the veteran and spouse, but for other family members as well.
These sections are both named after Saint Michael the Archangel, the leader of the celestial armies and the Patron Saint of soldiers. A beautiful granite memorial located in each section recognizes the priceless contributions these veterans have made to their country. Features of the memorial include insignias of the six branches of the Armed Services, etchings of scenes from some of the major conflicts in which the United States has been involved and a Roll of Honor, in which the names of veterans can be permanently inscribed.
Veterans who are honorably discharged are entitled to a free burial space in Saint Michael the Archangel sections.
Burial in a Private Cemetery
Headstones, Markers and Medallions
The Department of Veterans Affairs (VA) furnishes upon request, at no charge to the applicant, a Government headstone or marker for the unmarked grave of any deceased eligible Veteran in any cemetery around the world, regardless of their date of death.
Burial Flags
Why Does VA Provide a Burial Flag?
A United States flag is provided, at no cost, to drape the casket or accompany the urn of a deceased Veteran who served honorably in the U. S. Armed Forces. It is furnished to honor the memory of a Veteran's military service to his or her country. VA will furnish a burial flag for memorialization for an other than dishonorably discharged:
Veteran who served during wartime
Veteran who died on active duty after May 27, 1941
Veteran who served after January 31, 1955
Peacetime Veteran who was discharged or released before June 27, 1950 after serving at least one enlistment, or for a disability incurred or aggravated in line of duty
Certain persons who served in the organized military forces of the Commonwealth of the Philippines while in service of the U.S. Armed Forces and who died on or after April 25, 1951
Certain former members of the Selected Reserves
Who Is Eligible to Receive the Burial Flag?
Generally, the flag is given to the next-of-kin, as a keepsake, after its use during the funeral service. When there is no next-of-kin, VA will furnish the flag to a friend making request for it. For those VA national cemeteries with an Avenue of Flags, families of Veterans buried in these national cemeteries may donate the burial flags of their loved ones to be flown on patriotic holidays.
How Can You Apply?
You may apply for the flag by completing VA Form 27-2008, Application for United States Flag for Burial Purposes. U.S. Post Offices are the primary issuing point for burial flags. Generally, the funeral director can help you obtain a flag. Call and confirm with the post office in advance. Not all local post offices have burial flags on hand but they should be able to direct you to the closest issuing post office. Regional VA Offices can also help identify local issuing points.
Can a Burial Flag Be Replaced?
The law allows us to issue one flag for a Veteran's funeral. We cannot replace it if it is lost, destroyed, or stolen. However, some Veterans' organizations or other community groups may be able to help you get another flag.
How Should the Burial Flag Be Displayed?
The proper way to display the flag depends upon whether the casket is open or closed. VA Form 27-2008 provides the correct method for displaying and folding the flag. The burial flag is not suitable for outside display because of its size and fabric. It is made of cotton and can easily be damaged by weather.
Presidential Memorial Certificates
A Presidential Memorial Certificate (PMC) is an engraved paper certificate, signed by the current President, to honor the memory of deceased Veterans who are eligible for burial in a national cemetery.
History
This program was initiated in March 1962 by President John F. Kennedy and has been continued by all subsequent Presidents. Statutory authority for the program is Section 112, Title 38, of the United States Code.
Administration
The Department of Veterans Affairs (VA) administers the PMC program by preparing the certificates which bear the current President's signature expressing the country's grateful recognition of the Veteran's service in the United States Armed Forces.
Military Funeral Honors
"Honoring Those Who Served"
The Department of Defense (DOD) is responsible for providing military funeral honors. "Honoring Those Who Served" is the title of the DOD program for providing dignified military funeral honors to Veterans who have defended our nation.
Upon the family's request, Public Law 106-65 requires that every eligible Veteran receive a military funeral honors ceremony, to include folding and presenting the United States burial flag and the playing of Taps. The law defines a military funeral honors detail as consisting of two or more uniformed military persons, with at least one being a member of the Veteran's parent service of the armed forces. The DOD program calls for funeral home directors to request military funeral honors on behalf of the Veterans' family. However, the Department of Veterans Affairs (VA) National Cemetery Administration cemetery staff can also assist with arranging military funeral honors at VA national cemeteries. Veterans organizations may assist in providing military funeral honors. When military funeral honors at a national cemetery are desired, they are arranged prior to the committal service by the funeral home.
The Department of Defense began the implementation plan for providing military funeral honors for eligible Veterans as enacted in Section 578 of Public Law 106-65 of the National Defense Authorization Act for FY 2000 on Jan. 1, 2000.
*Information above can be found at https://www.cem.va.gov
CCA Veteran Highlights
This year, we at The Catholic Cemeteries Association highlighted veterans buried in our cemeteries. Submitted by loved ones and friends, we told the stories of brave veterans who sacrificed themselves for the sake of God and our country. We thank ALL veterans for their service and bravery!
We also compiled all of our CCA veterans into a video for all the enjoy and learn more about the lives and service of our brave women and men.
Memorial Day 2023
We thank God for the wonderful weather we experienced on Memorial Day this year. Thank you to all our volunteers who helped place flags on veterans' graves and to all those who attended one of our Memorial Day services!